Choosing the appropriate industrial metal shelves is essential to setting up a productive, well-organized, and effective warehouse. Shelving makes it simpler for workers to see, pick, and load product while also assisting warehouse managers in making optimum use of storage space. A sturdy and secure location to keep items is provided by high-quality warehouse equipment, which also increases the safety of the facility.
How to Pick the Right Metal Shelving Type?
Knowing what industrial shelf system best suits their storage needs is a major concern for warehouse managers. A specific type of metal shelves unit might be more advantageous for your facility depending on warehouse-specific requirements. Among the most crucial factors to take into account are:
Available floor space
Available vertical space
Product size, weight, type
Equipment you use for material handling
Aisle space
Inventory management system
Budget
Metal Shelving Types
You can pick from a variety of shelving styles whether you're designing a new warehouse from scratch or need to upgrade your current storage system. You can purchase a system that matches the storage density, load capacity, and size requirements of your building because warehouse storage is available in a wide range of forms, sizes, and weight ratings.
Metal Industrial Shelves
While bulk and palletized items must be stored properly on pallet racks, most warehouses also need additional steel shelving for non-palletized, individual items. Industrial shelving comes in a range of dimensions, aesthetics, and weight capacities. It is a great alternative for facilities with high SKU counts because it is frequently adaptable and simple to reconfigure. Our 200A 5-tier shelving systems are industrial-strength steel, low-profile, heavy-duty storage solutions.
They have a boltless, simple-to-assemble design that enables you to adapt to shifting storage requirements or seasonal variations. On 1-2″ centres, the movable shelves can be adjusted. Individual shelves have a maximum load capacity of 300 lbs. and are available with particleboard or laminate board decking.
With an open design, this style of adjustable metal shelving unit is very adaptable. It is a great choice for facilities that require physical handling or extra storage in warehouses. However, because the sturdy decking can support a variety of objects, it is also one of the most popular garage shelving solutions on our inventory list.
Wire Industrial Shelves
Metal wire shelving One of the most adaptable types of industrial metal shelving that is offered to organisations is wire shelving. Food and beverage, pharmaceutical, warehousing, fulfilment, and retail are just a few of the industries that often employ it. Because wire shelving is modular, you may assemble and modify units to fit different arrangements. The metal wire shelving unit is portable and long-lasting while still being lightweight.
Because the wire decking mesh is unrestrictive, air may circulate freely. This restricts the retention of moisture and condensation, which inhibits the growth of bacteria and mould on stock. For food and beverage storage, pharmaceutical storage, and freezer rooms, industrial wire shelving units and storage equipment are a popular choice due to their good ventilation. However, any heavy wire shelves that will be subjected to temperatures that are extremely hot or cold must have temperature-resistant features. Our heavy-duty steel wire shelving systems with zinc plating are excellent storage options for cold storage facilities. Despite being fixed, they include movable feet to ensure level alignment. An amazing 800 lbs of weight can be placed on each tier. Additionally, we carry specialist replacement shelving so you can design your own cold storage shelf solution.
A coating of epoxy with antibacterial properties is applied to the carbon steel wire shelves. This enables them to maintain their condition in cold, damp, or high-humidity settings. NSF certification confirms that our epoxy shelves adhere to public health protection regulations.
Metal Mobile Shelving
Mobility is a major benefit of industrial metal shelving. Some storage shelves have wheels or casters built right into them, making it simple and quick to move inventory about your facility. For highlighting prominent products or manual handling facilities that don't employ equipment or forklifts to load and unload goods, mobile shelving is useful in the retail industry. To make high-density movable shelving for small parts like screws, nails, nuts, and bolts, add dividers, bins, and containers.
We carry heavy-duty wire shelves in mobile and freestanding designs. Our movable 4-shelf units are made of sturdy zinc-plated shelves and posts. These three-sided closed-style carts make sure that things can be delivered safely. The 1,200 lb weight limit is split equally among all shelves. These devices' integrated braking casters are one of their key advantages. You can use them to secure the object in place. They can therefore be utilized as both mobile storage and freestanding shelving.
Metal Shelves without bolts
If your facility frequently needs to rearrange its storage owing to shifting SKUs, rapid product turnover, or a lack of space, boltless or rivet shelving is a great choice. It is a special type of storage that is assembled without nuts, bolts, or clips. Boltless shelving brackets, as opposed to conventional clip shelving, are made for quick and simple assembly and just need a mallet to install. These freestanding shelves, which come in a range of sizes and materials, provide both light and heavy-duty storage.
For medium- to heavy-duty items like car parts, machine parts, or building supplies, our 200B 3-tier shelving systems provide an affordable, adaptable storage option. Individual shelves can hold up to 1,100 lbs. and are available with particleboard and laminate board decking.
Metal Shelves in Bulk
Large-scale pallet racking systems can be replaced at a reasonable price with heavy-duty bulk metal shelving. Bulk shelving can hold large and bulky goods since it is made of high-quality materials and thick-gauge steel. Bulk shelving saves space and allows you to make the most of your storage space. We provide pre-assembled bulk shelving, which will save you time and money on installation and assembly. We use reinforced 12 gauge steel to make our all-welded reinforced bulk shelving. 2,000 lbs. of weight can be accommodated on each shelf in both open and closed positions. Auto shops, hardware store stock rooms, and other industrial locations frequently use this kind of storage. Adding industrial steel shelves will help you create the ideal garage storage area.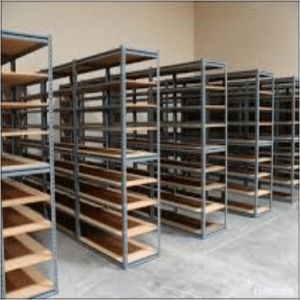 With Pak Fab, select the ideal storage options
Although selecting appropriate metal shelving is crucial, it can be difficult. PakFab provides full turnkey solutions, which include warehouse design and installation services. We can assist you in locating a shelf system that fits your spending plan while enhancing the effectiveness and productivity of your area. Our skilled installation team can also properly assemble and install your equipment, ensuring that it is suitable for usage. Call us at 03067522220 for assistance with any other warehouse-related issues.